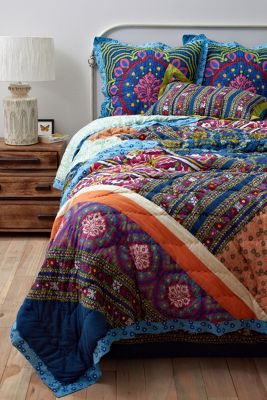 Have I mentioned how much I love Anthropologie? I realize I'm just another voice in a crowd about this one, but how I love it so. And while I am grateful to have most of my favorite clothes in my closet from Anthro, my favorite things at the store are in their home section.
I had my eye on
this quilt
for quite awhile. Isn't it delicious?
Then my parents gave me a lovely CASH gift for Christmas and I knew what I had to do. HELLO quilt, my love.
Sitting on my bed. It is actually an oversize Queen that SOMEHOW fits my King size bed perfectly with generous fabric to spare. How did this happen? I don't know but my husband and I love cuddling up in it at the end of the day. That's right; my husband loves it as much as I do. Win Win all around.