Folks. It is nearing that time.
I have had my Nissan Quest for 6 1/2 years. It has been a wonderful minivan and has served our family of 6 very well. Alas, I can't wait to move out of the minivan stage and into our next car (most likely in the spring).
But I have encountered a dilemma. With 4 growing kids (oldest is 10 1/2 and youngest is 4 12) it's not like we are going to need LESS space...it seems we will need MORE. Hmmmmm...
First, you need to see my favorite car. Like, if all of the stars aligned and I could drive whatever I wanted without limitations of size or price (bear with me, it is my car fantasy) I would drive a Mercedes G Class SUV. More specifically the
G63 AMG SUV.
Yes...I have given this some thought.
Like this:
I have wanted this car for years. YEARS. Whenever I come across one on the road I have been known to do whatever is necessary to pull up alongside it. It is a beautiful beautiful car.
But alas...it starts at $135,700 and that is before I make customizations to it. Sooooooo...not going to happen anytime soon.
Alright, moving on. I had always assumed that when we were finished with the minivan stage, our next purchase would be the Nissan Armada SUV. Like this one:
I love driving my current Nissan and have spent some time in the Armada and LOVE it. Lots of space, great towing capacity, decent mileage for an SUV, I like the tech and entertainment packages, in budget (basically). It even fits in the garage. We have talked about this being our next car for several years now so it was a forgone conclusion...until...
We went to Mexico and spent a day in
this
passenger van. That's right. Passenger VAN. It is the Nissan NV - Mexico version. It seats 10 or 12 (Mexican version) and is ultra comfortable... and kinda cool looking.
Then of course our Ragnar race happened (that is a post for another time) and we rented 2 large Ford 15-passenger vans to transport our team 200 miles on the race. I had never driven a passenger van before and was pretty nervous to take the wheel. Those nerves lasted about 6 minutes and then it was fine.
So after the race and after Mexico...we started thinking. What if...we bought a really cool passenger van instead of a big SUV? We would never be without space. We could literally carry anything in it. Our growing kids would not run out of room AND there would be room to take a friend or two or three when it was necessary. We love to take road trips (we take 3-4 a year) and it would be very comfortable to travel in. CONS: It would not fit in our garage. It would take up lots of space in the driveway. Most parking garages would be out of the question for us (though that isn't a big factor in our day to day life anyway).
So I started doing some research. The funky Nissan NV that I fell in love with in Mexico is not here in the US...and getting it from Mexico to California is surprisingly difficult. So that option is out. But then I remembered there is a passenger van I like even MORE. And it is by my old friend, Mercedes: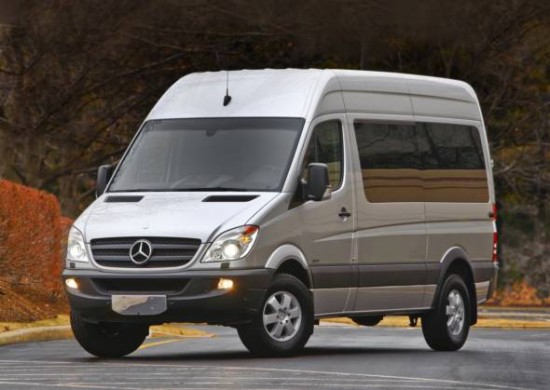 This is the
Mercedes Sprinter Passenger Van
. They have been around for years. It can seat 10 or 12, very customizable. Comfortable. Diesel. Great mileage (see diesel). It would take about $3000 to do the after market customs to it that I want (DVD screen/package and backup cameras/sensors). So out the door, roughly $44,000. And kinda cool looking. I was so interested that I visited my local Mercedes dealership a week ago to see it up close and personal. I liked it. And as a side note, if you ever want to see some truly luxurious Sprinter customizations, play with google - there are some AMAZE-BALLS conversions out there. WOW.
But going the passenger van route is a very different plan that the one we originally had. So I was a big torn. And not having it in the garage is a big con.
Then I did some more research. It turns out there IS a Nissan NV here in the US...and it looks completely different than the Mexico or European version:
Crazy right? That is a BIG car. This is the US version of the
Nissan NV
and it has only been around for a few years. In fact, they are hard to find! Again, I was so intrigued by the 324 different seating configurations in this thing and comforted by the fact that it was a Nissan that I drove to the nearest dealership that carries them. There are literally endless options with this thing. But it is BIG. When I mentioned it to my older kids and showed them pictures they begged to get this in black, "so that when we go to school we look like the Secret Service". They kind of have that look to them. The price point is a big more reasonable than the Mercedes, gas mileage isn't nearly as good...and did I mention that it is BIG?
I stewed on it for a few days, reading every review I could find online about both the Nissan NV and the Mercedes Sprinter. In the course of my research I came across a THIRD option. Which looks a lot like the Mercedes Sprinter (I prefer that look) and priced closer to the Nissan NV. It is not available until next spring/summer...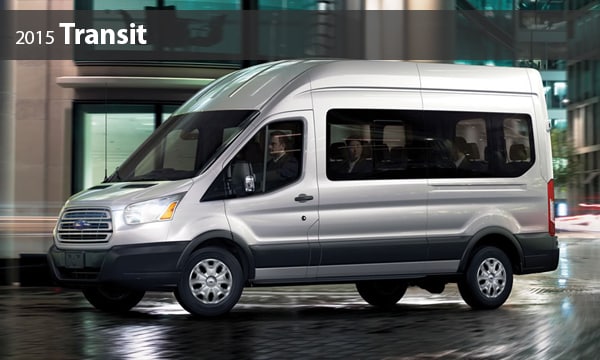 This is the
2015 Ford Transit Passenger van
. Kinda cool looking, no? Apparently this has been in Europe for years but now it is making its way to the US. I think that I like it.
So I have a dilemma. Do I stay the course and just get the SUV that I was planning on all along...or do I mix it up and get one of these vehicles listed above? What say you???